Get Ready to Rock this Saturday on beautiful An Bang Beach!

It's been too long since the last big party on An Bang Beach and we're ready to R-O-C-K this Saturday with an epic line-up, some absolutely delicious new cocktails and awesome vibes, as always.
Join us for an epic evening at The DeckHouse, An Bang Beach with our Rhum & Rock Fest!
In partnership with Sampan Rhum, our team is serving up some of the best cocktails on the beach just for you. Looking to do a tasting? Step right up and experience the different blends directly from Sampan and meet the team behind this local, hand-crafted, artisan rhum.
Ready to rock?
Com Them takes the stage from 4 pm to kick things off and get this party pumpin'!
After, get ready to get down as we party well into the night with DJ Bodhi Nam on the decks delivering the ultimate sounds to get you up, out of your seat and on your feet!
Get ready for an epic party on An Bang Beach at our Rhum & Rock Fest…bookings strongly suggested.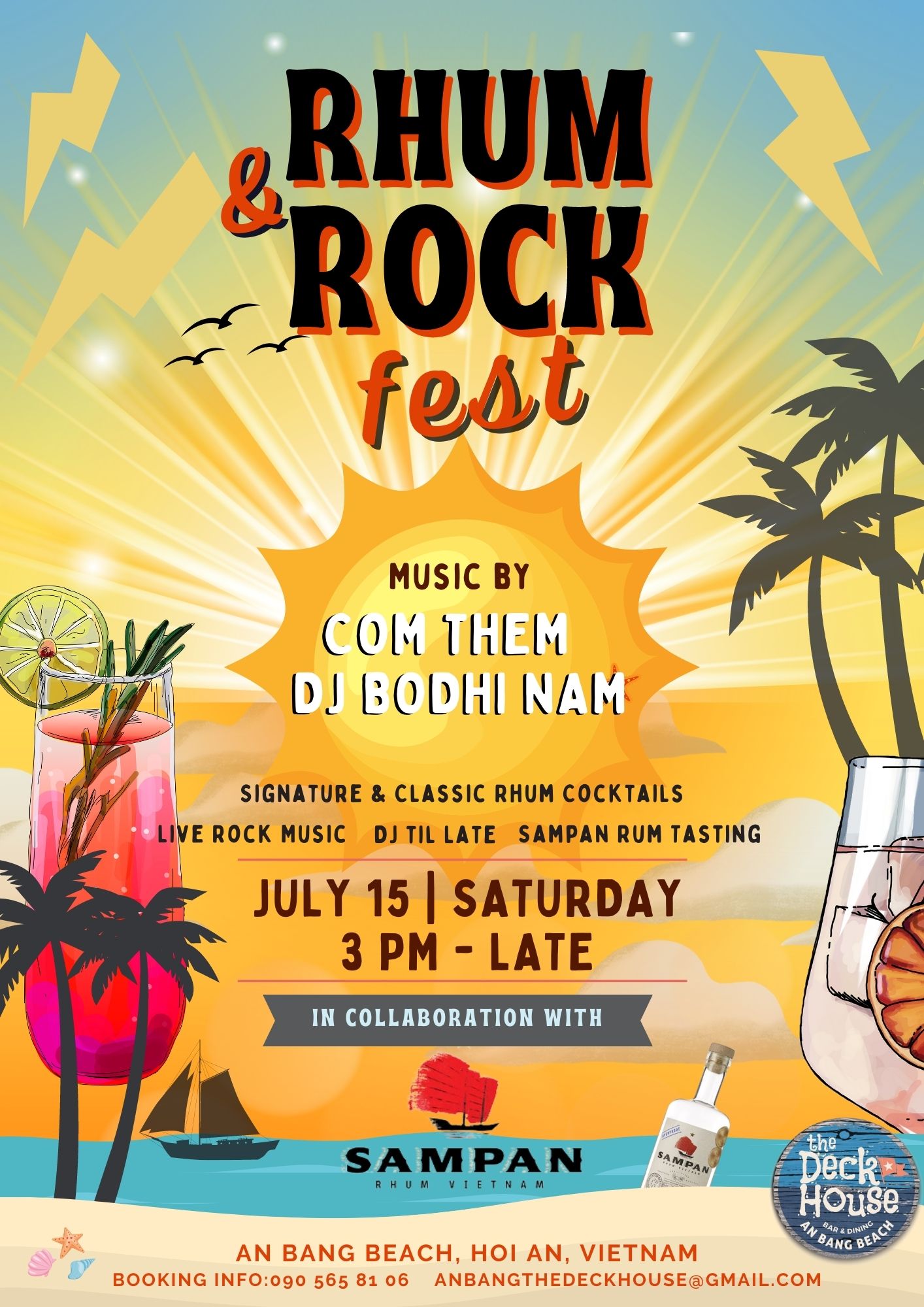 Thirsty? Our Sampan Cocktail Creations are Sure To Please
Inspired by the unique French style of Sampan Rhum and using only the freshest, local ingredients, our mixologist and head bartender, Sol, has created three new cocktails exclusively available at The DeckHouse An Bang Beach. Let's meet them…
Sampan Lychee Martini
Sampan 43%, lychee liqueur, lychee syrup, fresh lemongrass, lime juice, foamee
Sampan Strawberry Mojito
Sampan 43%, fresh spearmint, fresh lime, fresh strawberry, homemade brown sugar syrup, soda water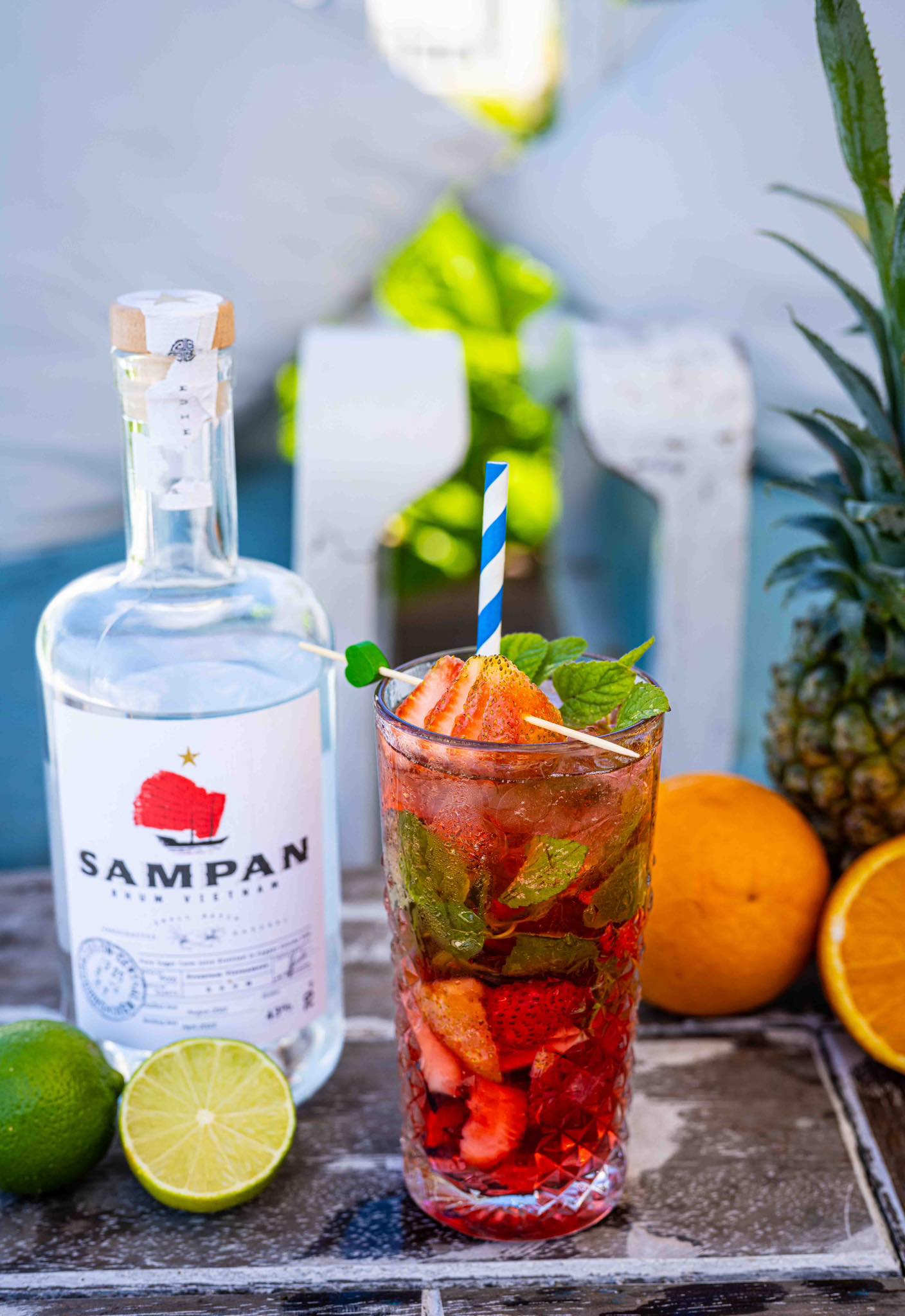 Sampan Colada
Sampan 43%, malibu, Frangelico liqueur, pineapple juice, lime juice, coconut cream, homemade coconut whipping cream
Bạn có sẵn sàng để ROCK không nào?
Hãy đến tham gia một buổi tối hoành tráng tại The DeckHouse, An Bang cùng đại tiệc nhạc Rock và rượu Rhum.Cùng sự kết hợp với Sampan Rhum, chúng tôi sẽ phục vụ bạn những loại cocktail ngon nhất tại bãi biển
Bạn mong đợi được nếm thử trước đúng không?
Hãy tiến ngay đến và thử nghiệm với sự pha chế đặc biệt từ rượu Sampan và gặp gỡ đội ngũ nhân viên của Sampan để có thể lắng nghe câu chuyện về một loại rhum địa phương.Và sẵn sàng nhảy tưng bừng với Rock? Ban nhạc Con Them sẽ lên sân khấu từ 4pm để khuấy động không khí và đưa chúng ta vào không gian tiệc tùng!
Và không thể thiếu phần kế tiếp để tiếp tục quẩy là sự xuất hiên của DJ, Bodhi Nam một DJ trẻ điển trai được yêu thích sẽ thức tỉnh bạn, rời khỏi chổ ngồi với những âm thanh tuyệt đỉnh
Hãy sẵn sàng để tham dự chương trình của chúng tôi tại biển An Bàng cùng tiệc Rock và Rhum
The DeckHouse
Bookings suggested

 FB Messenger

 0905658106

 anbangthedeckhouse@gmail.com