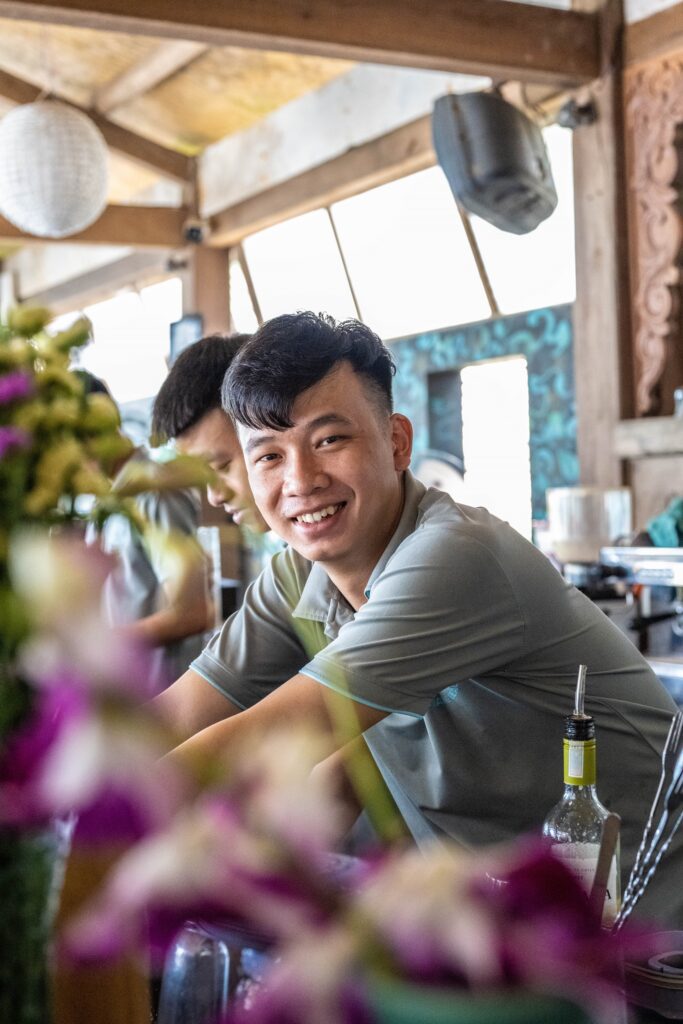 GUEST RELATIONS
We are looking for a Guest Relations team member to provide outstanding, high-quality service to guests at our popular beachfront restaurant.
In this role, you should be an excellent bilingual communicator. Friendly, outgoing and personable, you are the "face" of our brand to our guests during their visit. You will be responsible for interacting with the guests on a personal level. You will greet them on arrival, welcome and help seat them, talk them during their visit, check on their satisfaction with food/drink, make recommendations of other places to visit and things to do in Hoi An, etc.
Your primary goal is to ensure our guests enjoy themselves and plan to come back or recommend The DeckHouse An Bang Beach to others. Your role is to enhance the guest experience and create a warm, welcoming and friendly environment for guests and team members. Big smiles are required for this role – you are the primary point of contact for our guests while they are enjoying their beach holiday.
REQUIREMENTS
Proven experience as in Guest Relations or Customer Service in a restaurant or hospitality setting with international guests
Proficiency in English, must be able to interact with guests to share stories, recommendations, talk about their trip
Outstanding communication abilities with staff and guests; you will interface with both our local Vietnamese staff and international guests to ensure an outstanding experience
Friendly, outgoing, social personality – as part of our Guest Relations team, you are the 'face' of the brand to our guests
Passionate about Hoi An and Vietnam, overall. Able to easily converse with guests to share recommendations and tips while traveling.
Takes direction easily, can be flexible and easy to change
Hard-working, motivated and passionate about delivering outstanding guest experience
Team player – we believe that team work makes the dream work. We are looking for someone who wants to be part of a team,not a lone wolf
Guest-centered approach to customer service and handling guest enquiries or overcoming challenges
Experience working in Vietnam, serving both local and international guests
Multilingual required: English, Vietnamese minimum. Additional languages are added benefit: Korean, French, etc.
RESPONSIBILITIES
Welcoming guests in a warm, friendly and inviting way, displaying true Vietnamese hospitality to local and international guests
Providing information about our facilities (towels, showers, pool, VIP area), programs/partner activities (water sports, spa recommendations, wood working, etc) and recommendations to other local businesses and activities
Attend to special guests and answer their inquiries
Provide information about amenities, area and venues and promote services
Anticipate guest needs and build rapport with customers
Offer assistance with certain tasks (e.g. confirming travel arrangements, taking messages)
Address any customer complaints with prompt attention and action; your goal is to ensure no guest leaves unhappy
TO APPLY
To apply, please send your resume to our team on anbangthedeckhouse@gmail.com or contact us on +84 909 757 116 to learn more.
We look forward to receiving your application and meeting you!